Rotary Club of Multinational Manila (RIMM) in conjunction with Academy of World Healing Foundation (AWH) conducted a Christmas giving events on December 22, 2022 for the total of 141 indigent families and their children (4 to 8 years old) at three different locations. In the morning the venue was in Taywanak Ibaba. In the afternoon, one event was held at Luksuhin Ibaba for the residents of Usting 1 and 2, Camp Hope (Barangay Sicat) and a small event was for 8 families in Barangay Palumlum. All of these places are in Alfonso, Cavite.
The main livelihood of the indigent camps (Usting 1, 2 and Camp Hope) are selling balut (incubated duck egg), taho (a sweet snack made with soft tofu, sweet syrup and tapioca balls). Many fathers of these indigent families selected for the events are construction workers.
Each indigent family received 2 bags of rice (10 kg/family). We prepared a total of 300 bags (1.5 tons) of rice, including allotments for CICL (Children In Conflict with The Law) and the staff.
Past President Casey went to Divisoria, Metro Manila and bought 150 backpacks for students, 300 pairs of slippers for children and more than 1,300 toys in different varieties.
The total cost spent for the events was nearly P120,000. AWH and RIMM shared the expenses. President Don Shields of our sister club, Rotary Club of Geelong Central, Australia, also personally donated for the events.
Our club president Lito Mondejar, Gina of the Municipality of Social Welfare and Development of Alfonso (MSWD). Anna of the Commission on Population (POPCOM), the Barangay captains, as well as several members of the Alfonso Women's Council (AWC) joined the events. We invited 3 CICL in custody of MSWD to assist the events, so they would get involved in serving the community.
While we tried to make children happy, it was not our intention to encourage the families making more babies. Anna of POPCOM shared information on responsible parenthood and family planning to the mothers who have basically not had such education due to poverty.
The children were excited over their assorted toys and backpacks and sang Christmas songs.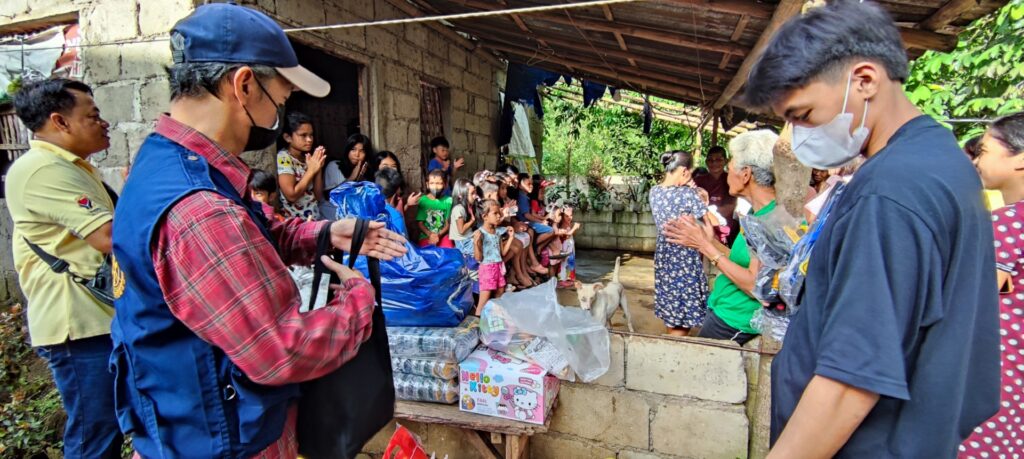 Updates on December 25, 2022
Giving toys to children continued on the Christmas Day.
There were a number of toys still left from the preceded events. So we have decided to distribute them to any children passing by near our club headquarters in Alfonso, Cavite.
Small children gathered to receive the toys, and elder children received 20 peso bills.