On August 17, 2022 RIMM donated a sack of rice, canned goods, biscuits and noodles to the family of Merly Montealto residing in Barangay Marahan 1, Alfonso, Cavite.
The family was selected for our support by DSWD (Department of Social Welfare Development) and LCPC (Local Council for Protection of Children) Alfonso, Cavite.
She is a single mother of 5 children who are attending high school and elementary school. Her 5th child is barely a year old.
She is a manicurist, wherein she put up a shaded spot near her rented home for her customers.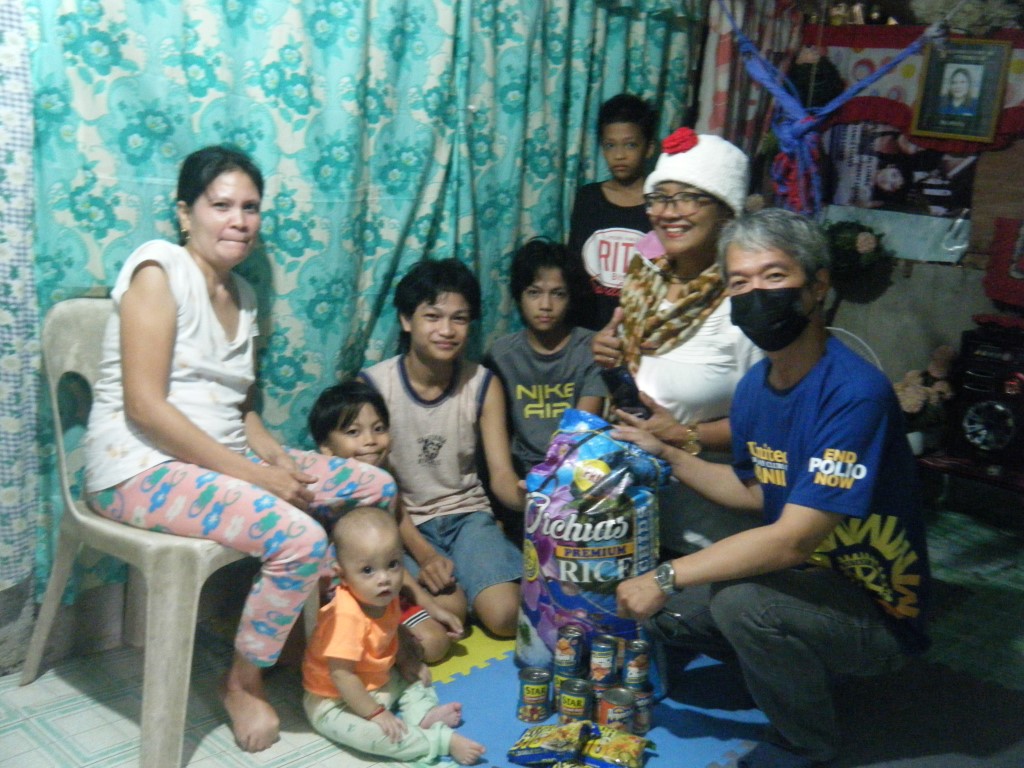 Updates on August 20, 2022
RIMM assisted Merly Montealto from Barangay Marahan1, Alfonso, Cavite on the school supplies of her 4 children attending high school and elementary school.
The school supplies consisted of backpack bags, assorted notebooks, brown envelopes, art papers, sketch pads, pencils, pens, umbrellas, socks, water tumblers, rulers, coloring pens, box of face mask, toothbrush, water color, tape, scissors, highlighter pens, rubber erasers, glue, plastic envelopes and many more were provided.
Merly and her eldest son who assisted his mother to purchase the school supplies thanked RIMM for the support.
Merly said she had no means at all to buy the school supplies as a manicurist and a single mother.
DSWD and our club have been associated for education of family planning as the Philippines is known for population explosion or baby factory, which has accelerated poverty entailing people to spend more money for nursing their children.
After being educated and assisted, Merly is willing to undergo ligation, one of the most popular contraceptive methods in the country, next month.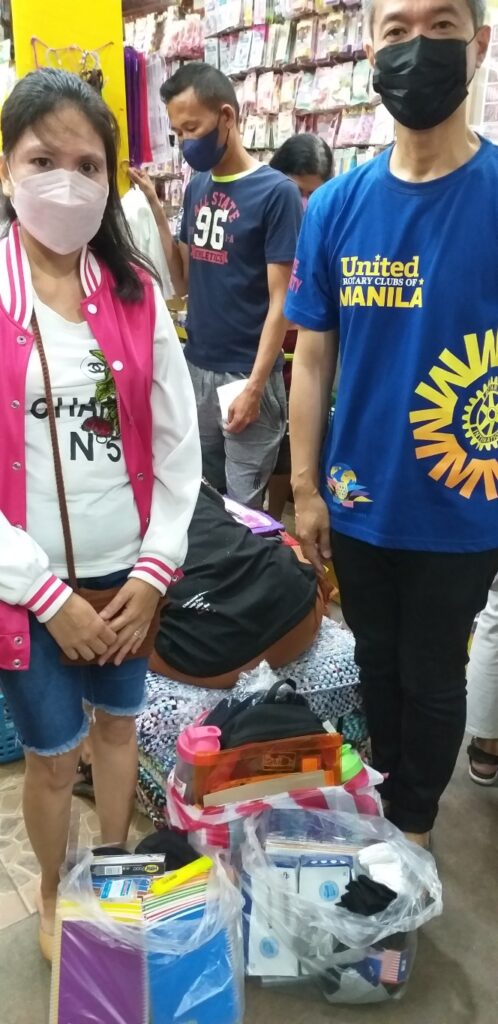 Updates on December 10, 2022
Rotarian Casey and Raymund, together with DSWD Alfonso Gina and former councilor Carol visited the family again.
After having 6 children from different fathers, Merly has decided to undergo ligation surgery and will take a week off from her business as a manicurist.
Our Club pledged to provide a financial assistance for her transportation to the ligation facility and food for the whole family during her off-the-work period.
Learning her eldest son has been making knitted items such as shoulder bags and sweaters, the fund assistance will cover the cost of yarns for him to further pursue knitting and potential sales of the products.
Updates on January 9, 2023
Gina of DSWD accompanied Past Presidents Casey and Raymund of Rotary International Multinational Manila (RIMM) to the rented home of Merly Montealto in Barangay Marahan 1, Alfonso to give 10 kilos of rice on January 9, 2023.
Her eldest son does crochet, and some of his completed items were displayed. He is selling them for his own school needs.
Merly was ligated in December 2022 and financial assistance to survive during her resting that also included the transportation cost for her ligation and yarn materials for her son was given by our club. She has 6 children and a single mother working as a manicurist.