Dionisio of Taywanak Ibaba, Alfonso, Cavite has worked as a security guard in a private subdivision for 12 years. He obtained the job through an agency and receives salaries from the agency.
However, his security guard license was expired 10 years ago as he has not had enough money to renew it. The agency has taken an advantage of it and keep delaying in paying of his salaries, sometimes for 3 months. It makes his family in a difficult situation. However, he cannot argue much as he is not currently licensed.
His wife, Elvie works at Academy of World Healing Foundation (AWH) as a part-time housekeeper. Since she only works every other day, her income alone does not fully support the family.
On February 22, 2023, Our club, Rotary International Multinational Manila (RIMM), decided to provide a financial assistance of P7,000 to him for the renewal of his security guard license, so that he can select a good agency and be competitive.
He will start the renewal process including Philippine National Police (PNP) Intelligence Clearance Certificate, National Bureau of Investigation (NBI) Clearance Certificate, and so on.
With his security guard license renewed, he will be able to apply for another security agency who will pay his salary on time and give employee's benefits such as Social Security, Philhealth (health insurance), and Pagibig (home loan program).
He will keep our club informed on the renewal progress.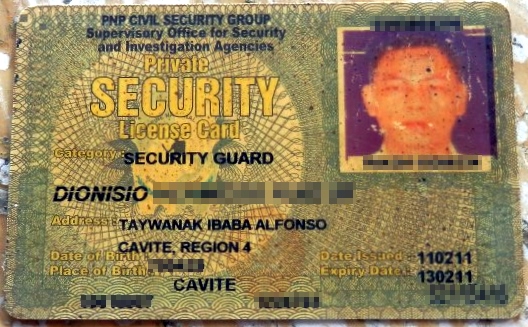 Update on April 14, 2023
The security agency at Camp Crame in Metro Manila recently mailed his licensed card and Dionisio finally obtained his renewed and valid security guard license.
Update on May 25th, 2023
Dionie visited our HQ on May 8, 2023 to show his security guard license card.
He was accepted to work at a bank in Tagaytay City with much higher salary rate and better benefits than before, when he did not have the active license.