Our club President Lito conducted a webinar on Maternal Health and Child Care on December 4, 2021, attended by 64 officers and members of Alfonso Womens Council. In addition, Teenage Pregnancy and Responsible Parenthood were also discussed during the webinar.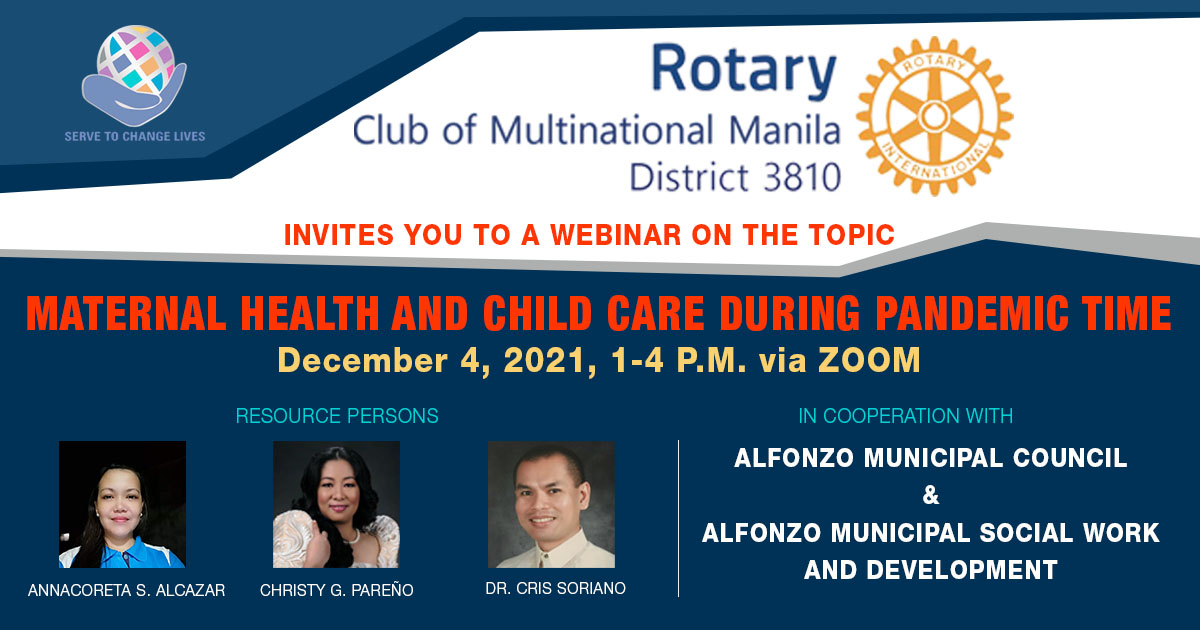 Resource Speakers:
Christopher Joseph Soriano MD, MHPEd, FPOGS
Doctor of Medicine degree at University of Sto Tomas
Residency training in Obstetrics and Gynecology, The Medical City
Masters in Health Professions Education
NTTC- University of the Philippines, Manila
Current positions:
Assistant Professor, Ateneo School of Medicine and Public Health
Assistant Training Officer, Institute for Women's Health, The Medical City
Radio Host, Doctors On Line, 702 DZAS (AM Band) FEBC- Radyo TV
OB-GYN Consultant: Tricity Medical Center, Pasig
The doctor talked extensively about Maternal Health and Child Care During Pandemic Time citing common problems encountered of women with regards to taking care of their health when they could not go to the clinic due to travel restrictions, and answering specific questions women asks with regards to pregnancy, women's health in general and Child Care in Particular.
Ms. Christy Parenno
Teacher 3 Balibago National Integrated School
Teaching Grade 11 and 12 English
Coach several winning students in Division, Regional and National Competitions
Candidate for Head Teacher English Department
Ms. Parenno discussed Maternal Health and Child Care from the point of view of the Mother of three healthy young children, a wife and a teacher. She poised some practical techniques on motherhood during this time of pandemic on how to cope up and home management secrets.
Ms. Annacoreta S. Alcazar
Population Commission of Alfonso , Person In Charge
Municipal Social Work and Development, Municipality of Alfonso
Ms Alcazar tackled the topic Teenage Pregnancy and Responsible Parenthood. She gave us recent data on young pregnant mothers in every barangay, to the Municipality and regional level. Alarming figures shows how bad the situation is.

The webinar was able to share many new information to the women that can help other women facing these challenges in their barangays and AWC President and its members were grateful to our club and its resource speakers for the webinar.
The webinar will not be possible without the help and cooperation of the President of Alfonso Women's Council, Ms. Len Reyes and the technical support of Gia Erica Rivera. of the Alfonso Mayor's Office.
The webinar lasted longer as planned till about 6p.m. A total 7,500.00 pesos Raffle prizes thru G cash was given to active participants coming from all the barangays of Alfonso, There were a total of 64 active participants in all Others come and go maybe of poor connection.
We awarded 74 Certificates of Participation and 3 Certificates of Recognition to our Resource Speakers.
The webinar cost of P30,000 was fully sponsored by our club.